1.4 mi To BWI - Baltimore Washington International Long Term Airport Parking
Operation Hours: 24 Hours
4 people are looking today
Shuttle Hours: 4:30am-12:00am Every 30 minutes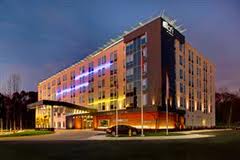 ---
Description
~No Room Booking Required~
Aloft Baltimore-Washington International Airport offers something bold and new to the culture-conscious traveler alienated by cookie-cutter, one size fits all experiences. As a vision of W hotels, aloft is a sassy savvy space offering intelligent design, accessible technology, and a social atmosphere of comfort and convenience. The aloft is conveniently located minutes from the BWI Thurgood Marshall Airport. When you return to the airport and have all of your luggage with you, please call the hotel for a pick up. The hotel will direct you to the closest shuttle pick up area.

Parking Instructions: Please use any parking spot available at the side and the back of the building. Enter to front desk to do a brief parking check-in, and wait for the shuttle transportation at the lobby.

Shuttle hours: 4:30am-12:00am Every 30 minutes Call for pickup.