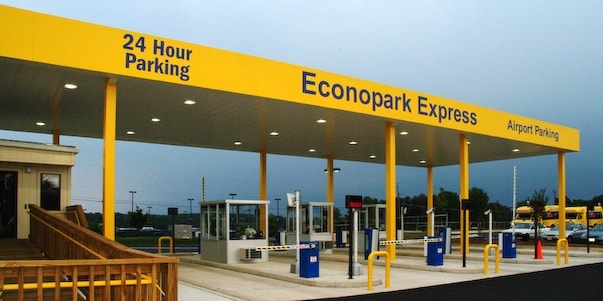 Description
***CLIENT MUST BOOK 5 DAYS IN ADVANCE***
We offer secure & convenient port parking.
When you arrive to Econopark Express you will be greeted by our friendly cashier and directed where to park. Our shuttle will pick you up at your vehicle and our driver will assist with luggage. We offer complimentary bottled water for the shuttle ride to the cruise port.
Check in time is 10:45 AM on Baltimore cruise ship departure date and shuttle leaves promptly at 11:00 AM The shuttle will be at the cruise terminal for pick up at 10:00 AM on cruise ship return date.
Prepaid vouchers must be presented at exit. Prepaid Parking reservations can be printed in the facility.
There will be no refunds for cancellations made with less than 48 hours advance notice. There is a $25.00 charge if customer misses the departing shuttle due to tardiness. Phone number for customer questions is 410-850-7001 EXT 9
DIRECTIONS:
From NORTH (Baltimore Area / I-195): Follow signs to BWI Airport / Rental Car Return From I-195, take Exit 1-B to Rt. 170 SOUTH (Airport Loop) Go 1 mile, turn left onto Stoney Run Road Follow signs to Rental Car Return Stay in the left lane and turn left at the light (staying on Stoney Run Road) Go straight at next light and turn left at 1st stop sign Turn right at next stop sign onto Ridge Road Turn left onto Weeping Willow Road
From SOUTH (Wash. DC Area): From I-95 or Parkway take Rt. 100 EAST towards Glen Burnie Take Exit 10-B onto Rt. 713 North (Hanover) At 3rd light, turn LEFT onto Ridge Road Go approx. 1 mile (thru stop sign) Turn left onto Weeping Willow Road
From EAST (Anne Arundel County / Bay Bridge): From I-97 take Rt. 100 WEST toward Ellicott City Take Exit 10 onto Rt. 713 North towards Hanover (Turn RIGHT at bottom of ramp) At 2nd light, turn LEFT onto Ridge Road Go Approx. 1 mile (thru stop sign) Turn left onto Weeping Willow Road
Find and Book Parking Near You
Hanover Parking