The mayor of Chicago has proposed a rate hike for Midway and O'Hare airport parking, Chicago Tribune reports. This is worth noting that both of these airports already had parking prices in place that had been described as some of the most expensive in the country and could only be described as exorbitant. The proposal was made through an ordinance on Nov 1 and was passed on Nov 7.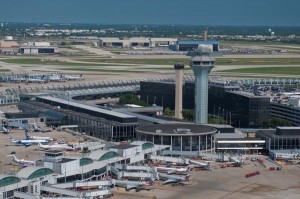 The increase is a part of the 2017 city budget and the proceeds from the increase are supposed to cover expenses such as airport operations and upgrades. In case you are not aware of the fact, the city of Chicago also makes money by taxing airport parking and stands to make money from increased taxes on the new rates. According to Chicago-Sun Times, the proposed hike is expected to generate more than $4 million in parking taxes and about $15 million overall for the airport.
Comparing The Old And New O'Hare Parking Rates
According to new details, the maximum charge for parking at the hourly lot is going to jump from $46 to a whopping $59 per day. Similarly, the rates for daily lot would escalate to $32 which used to be $24.75. Valet parking would now amount to $54 from an already quite high of $41.75 with overflow going as high as $30 from the previous figure of $21.75.
As can be easily deduced by looking at the old and new figures, the O'Hare airport parking rates were already quite high compared to any city in the country. Even the rates for long term parking at O'Hare are quite high at $17 and $10 per day for Economy E and Economy G respectively.
Affordable ORD Parking By Book2Park
Wouldn't it be nice to know that you do not have to pay these exorbitant rates and still park your vehicle at a secure lot within a few miles of ORD? With Book2Park's long term parking rates, it is now possible for you to park your car at a secure, covered parking lot for just $7.25 per day. In addition, you get to enjoy free shuttle service to and from the O'Hare airport as well.
About Book2Park:
Book2Park is one the leading provider of remote parking facilities in the country offering cheap and secure parking options for airports and seaports across the nation. In addition to O'Hare parking, we also provide highly affordable rates for long term parking at DFW, IAD, BWI, and DCA. For more information on long term parking at DCA and other locations, please visit our locations page.