Book2Park, one of the leading providers of off-site airport parking services in the US, has launched a brand new website this month. The new website is aimed at providing the best possible user-experience to our ever-growing, loyal customer pool.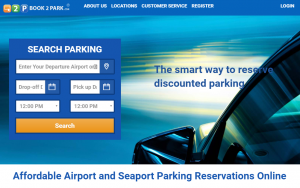 In its beta phase, the new website proved to be a huge success in terms of usability testing, easy navigation, and user-friendliness with our customers. We are excited to go ahead with a full-scale launch and are confident that our customers will be able to enjoy our services in an improved and more effective manner.
Book2Park has been providing remote parking services for seaports and airports for almost a decade now and is a trusted name in the industry.  It operates a substantial partner-network of remote parking across the US as well as Canada. Book2Park has always striven to provide the highest level of customer satisfaction by providing affordable and reliable airport and seaport parking services.
Announcing the launch of the new website, Anna Connors, President of Book2Park had this to say, "It is an exciting day for us to have our new website being launched. We always try to come up with better ways to provide best possible user-experience to our customers; not only for the actual parking but how easily they can get the reservation is also very important to us. We are extremely confident that the new website will go a long way towards achieving that goal. It looks great, has a very easy and user-friendly navigation and we have received very positive feedback from the trial launch from our patrons."
About Book2Park:
Book2Park is one of the leading airport parking providers in the country. Our partner network enables our customers to choose from a wide range of parking options that include multiple lots for single locations, covered and uncovered parking, valet and self-parking, and round the clock shuttle services to the airport. DFW, BWI, HOU, and IAD airport parking are some of our most sought after location along with a broad network of off-site parking.
For information on long term parking at DFW, DCA, and other locations, please visit our locations page.